Logbook of the Course in Arctic Technology, Godhavn, Greenland
6.-23. August 1996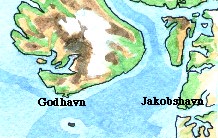 på dansk
Map of the Bay of Disko
---
---
| | Logbook kept by Anne-Lene Felland |
| --- | --- |
---
| | Water colours done by Ole Jacobi |
| --- | --- |
---
Working on this logbook, I have found help and inspiration in various tourist brochures and in the following works:

Dissing, P. (1992): Kalaallit Nunaat. Over adskillige grænser. (CD). Pladekompagniet.
Fisker, J. (1984): Godhavn. (1.ed.). Umanak: Nordiske Landes Bogforlag.
Gensbøl, B. (1996): Grønlands Natur, en rejsehåndbog. København: G.E.C. Gad.
Ydegaard, T. (1989): Vandreture i Grønland. (2.ed.). Holte: Skarv Publications.
Ydegaard, T. (1989): Slæderejser i Grønland. (1.ed.). København: Skarv/Høst & Søn.
---