| Homepage >| Logbook Index >| previous page >| next page|

dansk version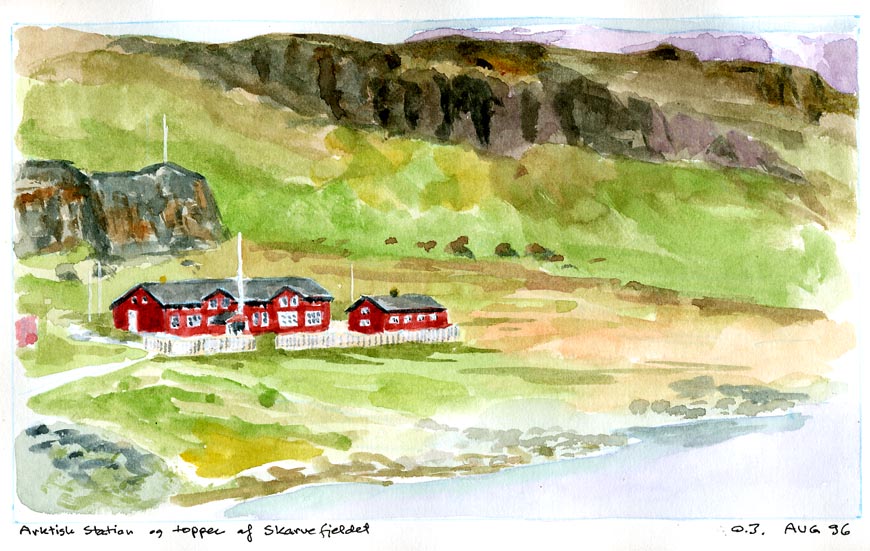 The Arctic Station and the top of Skarvefjeld ©Water colour by Ole Jacobi 1996
---
Friday 9 August 1996
I'm sitting outside the door, enjoying the view. The time is 7.30, and Martin Søgaard is baking bread for breakfast, Jacobi is making oat porridge.
The sun is shining again today, the temperature is 2 degrees Celcius, but it feels warmer because humidity is so low. There are a few clouds on the horizon which are reflected in the small lake right in front of the Arctic Station. It is very quiet. There are quite a few mosquitoes around me, and they are hungry. I can hear water running to my right in the small stream. The air is clean, dry and pure balm for city lungs. Nevertheless, Leif Skytte is smoking a cigarette in the door to his house. We exchange a few words. Leif is by nature a man who does not waste time on unnecessary speech. This is a wonderful rest from the pressures of civilization.
"I'm in Greenland. I'm in Greenland", I repeat the words to myself over and over again.
Team B sails for Skansen today at 9 with Jacobi and Keld Dueholm. Arne is taking team D on a walking tour to Blæsedal. Team C and I are going sightseeing, taking coffee with the locals. We have a Greenlandic guide whose name is Uvdloriaq. It means "Star".
The round trip involves coffee with the Jakob Broberg family. The daughter, Tina, is visiting her parents today. We are served coffee with homemade cake. The house is filled with fine Greenlandic handwork: pillows made of sealskin in different colours and patterns, some of them even decorated with eiderdown. On request we are shown the traditional Greenlandic costume. It is HEAVY. The most eye-catching detail is the large pearlcollar which is made up of a great number of small glass pearls. The white sealskin top boots have two layers, the inner boot made of warm soft skin, the outer boot water tight and solid. At the top, the boots are decorated with lace and flower embroidery. The trousers (the so-called Greenland shorts) are sewn with minute coloured bits of sealskin in beautiful patterns.
I do my shopping at KNI, referring to the students' shopping lists. On the way, I pass "the board" which is the local game market. A small shed with a row of tables. On the tables inside are seals, already skinned, carved and put up for sale. There's a strong smell of saltwater, meat and blood.
Home at the Arctic Station, the team from Blæsedal has come back. They have seen whales, and we are not at all envious!
At 2 o'clock Arne takes the next team to Blæsedal, while some of us are just sitting around on the terrace in front of the Arctic Station, chatting, eating, smoking and drinking coffee. The sun is shining wonderfully, but we keep on our jackets and smear ourselves with mosquito balm, they are swarming around us.
Some of us take a nap, myself included.
At 5 we have a date with the botanist Eric Steen-Hansen from Copenhagen University who is here at the Arctic Station to study lichen. Greenland is very much a country of lichen and mosses of which there are more than 500 species.
He is going to tell us about, and show us, the different species which grow just 10 minutes walk from here. I learnt a new word today: "ornitokoprofile lichen species". It's a special kind of lichen which is dependent on birds' manure.
For supper today we have boiled halibut with potatoes and lemon sauce, followed by coffee and Karen Vinther's whisky.

---
Saturday 10 August 1996
Team C has sailed for Skansen this morning at 8, they must have been up early.
I go shopping at the KNI store, and drop in on Preben Ullitz to enquire whether I should pay tomorrow, Sunday, but as they are open tomorrow between 10 and 1, there is no problem.
At 10.30 I'm sitting here on the terrace waiting for Bjørn and Martin. They have asked me to come with them today to help them with their geo-electronic measuring equipment.
When you read the Greenland tourist brochures, they all say the weather changes very quickly. I don't know who made up that saying which everybody then copies. In my opinion, it's not true. We've had one sunny day after another, and again today the sun is shining from a cloudless sky.
At 11, I start off with Bjørn and Martin. The equipment is heavy, but I'm let off with carrying one earth rod. On our way, I absolutely have to pluck a mountain poppy, standing all alone and crying out to me with its large yellow flower on the wind-swept gravel.
We find a good place on the plain underneath Skarvefjeld. It's great fun to be in on. We roll out cords, measure, read and plot. The project concerns finding out the depth of the permafrost layer.
At 1, we take a pause and eat our sandwiches. We sit down in the lee of the rock and look out over the sea. The sun is still shining. There are some clouds hanging over Lyngmarksfjeld, looking very impressive. The ravens (tulukkat) are flying close to us, these big black birds with their metallic plumage. "I wonder whether it is Hugin or Munin (the birds of Odin)", asks Martin. A small wheatear is also looking for company. It is sitting up, making small intermittent movements with its tail. We notice that animals and birds do not look on man as their enemy. Apparently unpleasant experiences with humans are so rare in these surroundings that they do not effect the behaviour of the birds.
Just as we've finished eating and gone back to measuring, the calm is broken by an enormous crash. It almost sounds like a giant thunderclap. We are spaced out on the plain with 30 metres between us, and we all turn towards the sea. I forget all about geo-electronic measuring equipment and rush to the top of a rock to see what is happening. Bjørn and Martin do the same. An iceberg is shedding something, has eased itself of some of its weight on its way to total submersion. Slowly, with water pouring down its sides, the iceberg tips around until it finds a new balance, in slow-motion worthy of a giant. We are fascinated observers of this natural drama. The smaller pieces also have to find their balance, so there is a splashing and seething in the icy water until everything quietens down. We watch tensely for the large and dangerous wave we have heard about, but the water stays strangely calm.
Around 3, we've finished for the day and start walking back. When we arrive home, Team A has already returned from Skansen where they have been three days running. They have had a good time. They have seen whales - or so they say, tall tales are more numerous than mosquitoes here!
Reindeer soup for dinner.
Five people have been on a dog sled trip today on the Lyngmark glacier. It has been a total experience of speed, teamwork and grand Nature. The XTV team went with them.

---