| Homepage >| Logbook Index >| previous page |

dansk version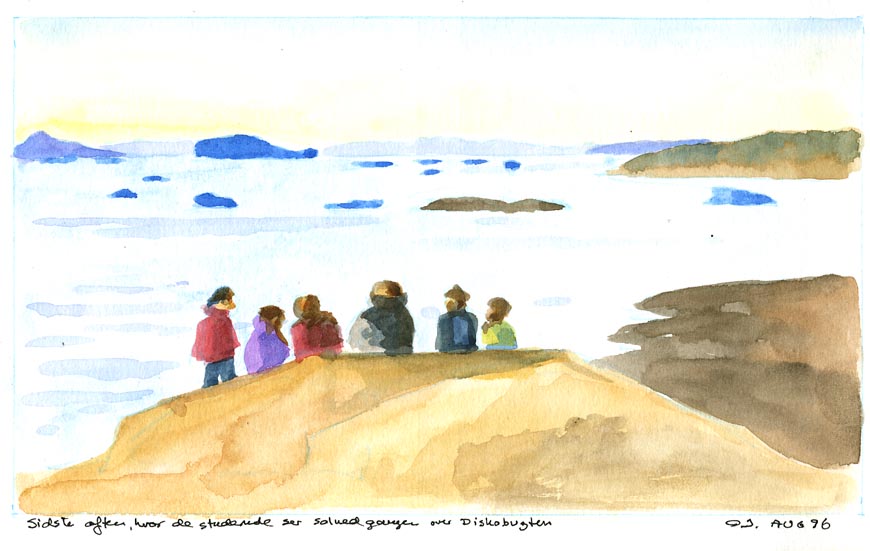 The last evening. Students watching the sun set over the Bay of Disko © Water-colour by Ole Jacobi 1996
---
While the sun is setting, we look towards the north over the Bay of Disko. On our the left lies Disko Island with the conical mountain Isunguaq, on our right Arveprinsens Ejland, and in the centre the Sarqaq valley on Nuussuaq 100 kms away.

---
Some of us go up to watch the last sunset here in Greenland. The soft, warm light and the long shadows from the low-hanging sun make the natural scenery appear dreamlike and almost divinely beautiful. Fairy tales need splendid setpieces, and here, splendour is all around us. So, you ask yourself: "Was there ever anything to match this?"

I cannot sleep. My soul is overflowing with images of Greenland. I keep hearing Leif Skytte's last words as we said goodbye to Disko: "You will come back - and you are welcome..."
---
Friday 23 August, 1996
At approximately 6.45 we're picked up by the "citybus" which takes us to the airport with all our luggage in three relays. I'm with the first group, and as we get to the airport, 4 people find out that they have forgotten to return their keys to the Youth Hostel. The keys are returned with the bus, and we start checking in.
At 7.30 our packed breakfast from "Naleraq" is brought to the airport in a taxi. The flight, GL 503, departs on schedule at 8.
Here we are, flying over the edge of the ice cap at 2400 metres altitude in the small DASH-7. Our group fills up the whole plane except for a couple of German tourists. Mikkel is playing with his GPS, Jacobi cannot make his altimeter work, and Kristian is showing me the seal skin he's been given by Jørgen Broberg.
The captain announces that the temperature is 8 degrees Celcius in Kangerlussuaq, and that we're landing in a few minutes. In the airport, time is taken up with last-minute shopping for gifts and tax-free items.
Some of us find time for taking a look at the musk oxen. The creatures are walking slowly around, grazing or resting while they're chewing the cud. As long as you keep a proper distance, they'll tolerate you, but if you get closer than about 50 metres, you have to watch them carefully, especially the bulls. If they start nodding their heads and pawing the ground, it's a sure signal that they are becoming agitated. If you persist beyond this point, you're risking life and limb. Your own - and those of any companions. A musk ox bull is not someone to play jokes on.
I fall asleep on a outside bench - in my seal skin anorak. It's nice and warm, and I'm not cold for a second.
When they sound the boarding call for SK 292, departure at 12.45, three students are missing. They've gone out to watch the musk oxen and have not returned. Arne deploys some workers in a car to look for them. A little later we see them coming, hell-for-leather, and soon the whole group is sitting in the plane bound for Kastrup - deeply buried in Danish newspapers and magazines. Suddenly the world we're returning to has begun to interest us once more.
Now we're worrying about the 27 degrees Celcius which is said to await us at home!
Finally a warning: Travelling in Greenland, one can easily be infected by a chronic and incurable illness, the "arctic fever". The symptoms, which are only felt far from Greenland, are in the nature of a persistent, nagging yearning to return to that far northern country. As I said, the fever cannot be cured, only assuaged by regular doses of "Greenland".


---