| Homepage >| Logbook Index >| previous page >| next page|

dansk version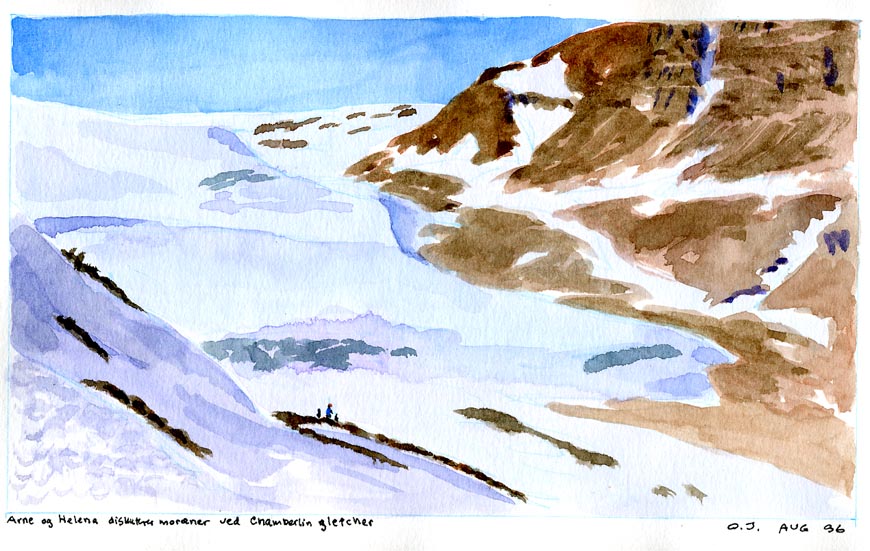 Arne and Helena discussing the moraines at the Chamberlin Glacier © Water-colour by Ole Jacobi 1996
---
Sunday 18 August 1996
It's difficult to get up this morning at 7. Mia and Heidi have only just returned from the party. They say they've been talking to the sheriff all night!
After breakfast we're walking up the Blæsedal - right up to the Chamberlin Glacier. "Departure at 9 sharp", says Arne, "regardless of the dance last night". That's the stuff!
We have invited Kim Bach to come with us. He arrives at 9, and the team, which includes Jacobi, Arne and I, departs. The sun is shining, and it's hot. I walk in my T-shirt. Martin says that we must keep on the left side of the river. We walk through a canyon-like ravine with vertical sides and a great flood of water in violent turmoil which we have to cross at one point, using a rope. We walk on the edge of the ravine. Great waters in violent motion always create a drama.
We walk and walk, part of the way on stones in the sporadically dried-up river. But it's not negotiable all the way, and occasionally we have to jump from stone to stone in the water. Jacobi carries Stine and Kim on his back across the deepest places, he's wearing his gum boots. Much to his vexation, me and my Gore-Tex boots can take care of ourselves. We are not going to be carried!
It turns out, however, to be hard going. With only three hours' sleep last night, and the booze still in our blood from last night's dance, we have to make several stops. When the altimeter shows 100 metres, I realize that to reach 400 metres is going to be really hard. We keep climbing, and after a few hundred metres, a grand view opens up, and as we ascend over the valley, it becomes grander and grander . We can see the fog blowing in from the sea through the Blæsedal underneath us. But we're higher up, up where the sun shines.
We have to stop a number of times not to get too warm. The gradient may be moderate, but it still brings us out in a sweat. We walk over ice and snow, and at last we see the glacier. Once it reached right out into the fiord, but now it melts down before meeting the water, and has to be content with pushing forward unbelievable masses of stone and gravel. These are reminders of eternities of time, and at the same time an object lesson in the genesis of landscapes.
The Chamberlin Glacier is white and beautiful - and large and frightening, as it lies there. It tickles your stomach a bit, here at only 470 metres.
We sit down and eat our packed lunches. It's 2 o'clock, and Martin is going down to see how much the glacier has moved while we have been here on Disko Island. The others go down with him.
Jacobi wants to do a water-colour, and I sit next to him in the sun. Suddenly I'm sorry that we are going home the day after tomorrow. We have to leave this beautiful country soon. In here, by the glacier, we're so far from civilization that the silence is total. The silence of Nature. Then I fall asleep.
The walk back is harder and calls for greater attention than the ascent. We walk carefully and keep a good distance between us in case one of us loosens a stone. I'm exhausted. My legs seem to carry me without volition.
We're home at 6, having walked 20 kms altogether. Back at the Arctic Station, I tell the others that we've had a wonderful trip. Here it's been foggy all day while we've had the sun.
Supper tonight is chuck steak with boiled greens, potatoes and red cabbage, a nice Danish meal.
I'm relieved from evening class. I feel I've used myself to good purpose , a real boost to one's self-confidence.
---