| Homepage >| Logbook Index >| previous page >| next page|

dansk version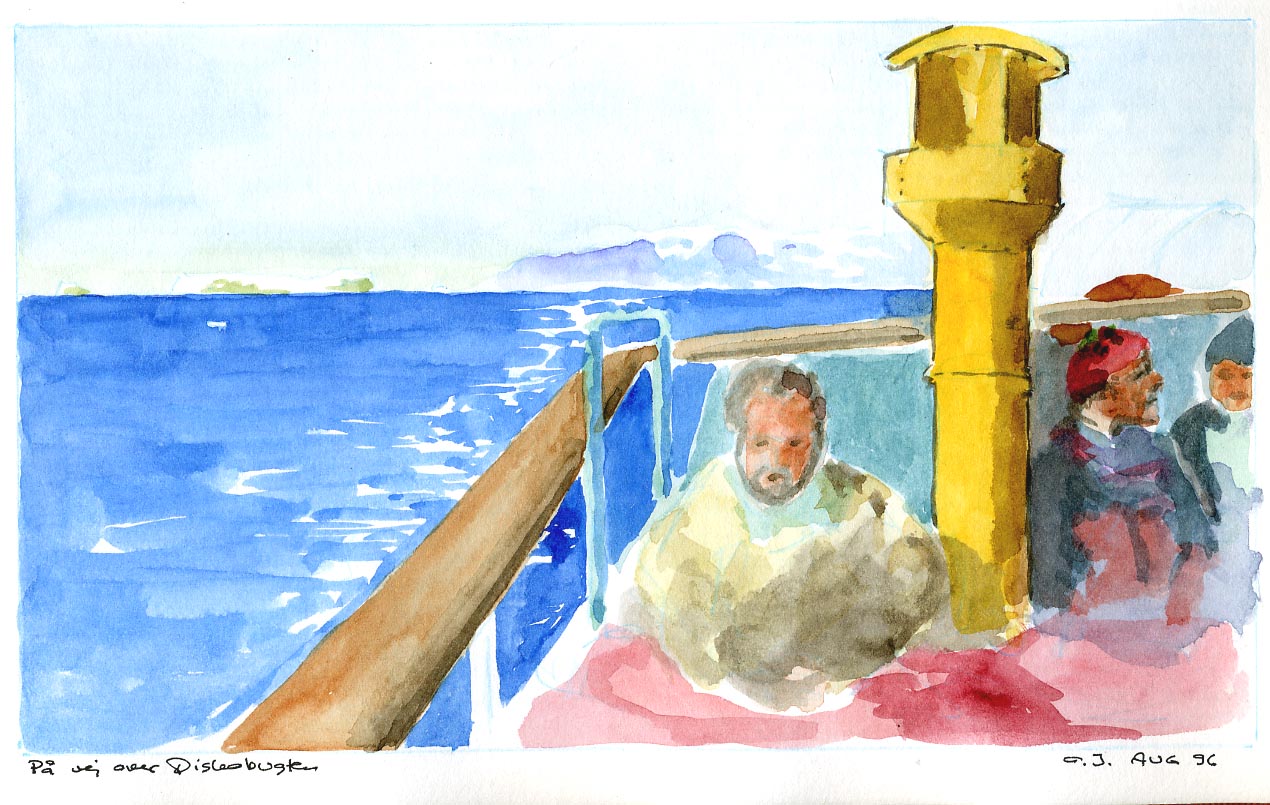 On the deck of Tugdlik: Arne, Lars Jon and Anne Lene © Water-colour by Ole Jacobi 1996
---
Tuesday 20 August 1996
Keld and Sven have volunteered, or perhaps been pressured into making breakfast today. The time is 6.15!
The boat, "Tugdlik", is set to sail at 8, so we have to leave the Arctic Station at 7. Leif has promised to take our luggage from all three quarters down to the harbour. He has to do the trip several times to get everything on board, but it's a great help, and we are truly thankful.
After tidying and washing-up, we have a quick look through the all the rooms - nothing seems to have been forgotten.
At 8 sharp we leave Quqertarssuaq in full sunshine and 8 degrees Celcius. Uvdloriaq and Leif are left on the quay, waving good-bye until they are almost out of sight. It's a little sad.
All the benches down in the saloon are quickly occupied by tired students. They are everywhere down there, and all asleep. Even Jacobi, I've noticed, is asleep. He should have been on deck all the way to Ilulissat, looking at icebergs. "I'm not going to sleep", he announced loudly and clearly last night. (I suppose up here you have an attitude, until it gets too cold - isn't that so, Jacobi?).
We are 7 people left on deck, covered in blankets and sleeping-bags. It's cold, but the sun is shining. I've lent Lars Jon my strawberry hat to the vast amusement of the others. The ship is pitching violently, but we manage to eat our packed lunches and have a good talk. Then we fall asleep, and I dream of Kalaallit Nunaat, the Land of Men, far to the north.
At 2.30 we arrive at Ilulissat, still in full sunshine and amongst all the icebergs. So much ice, and such unimaginably great icebergs. The giants come in all possible shapes, and the skipper gives them a wide berth at all times.
Our luggage is brought to the Youth Hostel, and we are installed. Jacobi has arranged a meeting with his old childhood friend, Knud, whom I meet briefly. "Hello", he says, "I'm Ole's playmate." Well, I suppose they are going out to play...
Arne and I go down to Strange Filskov at the Tourist Office to confirm that the group has arrived and to arrange bus transport to the airport on Friday, when we're going home. Here, I fall in a big way for a sealskin anorak. To feel a sealskin anorak from Greenland is to feel the essence of the country's nature and culture. In short, a fur which is entirely in harmony with nature. It's made from the skin of the ringed seal, and the hood is framed in white arctic fox fur. It simply "jumps" at me and will not let go. I have to buy it.
We're eating at 6 at "Naleraq" which turns out to be a pleasant surprise. Arne and I go already at 5 to meet the chef, Jacob Lindbo. We arrange the practicalities of breakfast, packed lunches and supper with him. Jacob Lindbo has laid long tables for us with lilac table-cloths, silver plates and candles. The students start to turn up, and can hardly believe their own eyes. We're served with goulash of whale with mashed potatoes, cowberries and beetroot. It is obvious that Lars Lindbo is a true chef de la cuisine.
After this sumptous meal, some of us take a stroll around the town, where Jacobi shows us "The Board", the Zion's Church, the birthplace of Knud Rasmussen, the famous arctic explorer, the hospital etc. We go into "Hotel Hvide Falk" for coffee and cake.
My feet are still hurting, and when we return to the Youth Hostel, it seems I've got another blister!

---