| Homepage >| Logbook Index >| previous page >| next page|

dansk version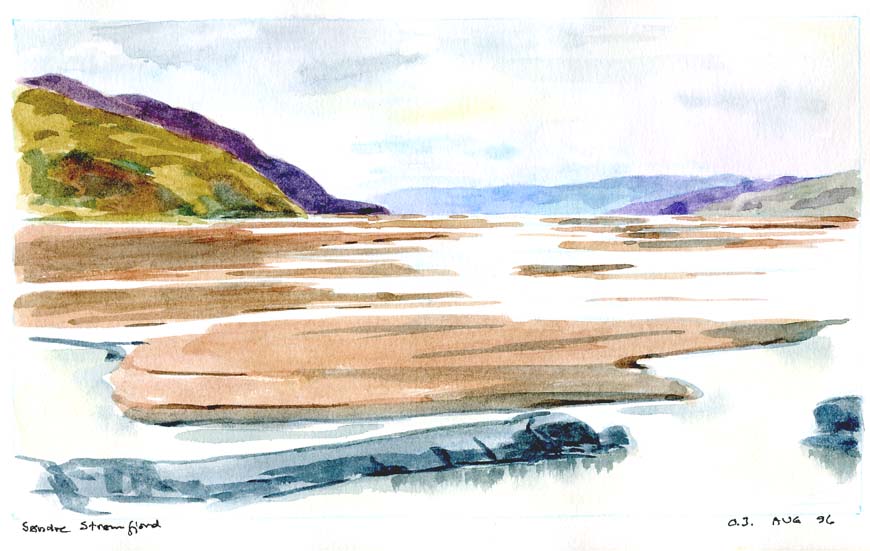 Looking out of Sondre Stromfiord from the bridge across the river © Water colour by Ole Jacobi 1996
---
Facts about Kangerlussuaq:Bluie West 8

---
Tuesday 6 August 1996
Bound for Greenland!
Now we're off to Greenland, the place we have all heard so much about, and looked so much forward to seeing. All in all we number 46, but the first 20 have already left to spend a week's holiday at Ilulissat (Jakobshavn) where we are meeting them this afternoon. That makes 26 of us, all arriving on time at Kastrup Airport. We check in as a group for flight number SK291 to Kangerlussuaq (Sdr. Strømfjord). Everything goes without a hitch, but still, it takes almost 3 quarters of an hour before we are through. We are a bit worried about excess weight, but after check-in, we are told that everything is OK.
For some reason, the flight is 30 minutes delayed , but finally we are placed as one big group here at the front of the plane, and I'm lucky enough to get a window-seat! The weather is clear and sunny, and as we leave Denmark, the temperature is 24 degrees Celcius. Soon we pass over Elsinore with a view to Kullen, with Anholt, Læsø and the whole of Skagen to our right; across the mountains and deep fiords of Norway, and then we are over the Atlantic. Suddenly Iceland appears, or is it the Faroe Isles? The exact location is disputed, but the sight of snow on the mountain tops convinces us, of course it is Iceland. The time is 1.15.
Now Greenland appears in the distance and everybody rush to the windows to see it. Way down in the sea, small white indiscriminate dots are sailing around, they are icebergs, says Jacobi. Now we can all see it - they are not fishing boats!
Greenland has rolled out the white carpet for us, and we get the first real impression of the great open space of the ice cap. A large snowy expanse, almost without end. Here and there the Nunataks (mountain tops) break through the ice, creating dark islands in the white sea which serve as targets for our sight. Arne Villumsen falls into a trance and announces: "Seeing a Nunatak makes geologists go all wet."
Suddenly the sky is overcast, and we lose sight of it all. At 2.30, the captain announces that we're going to land at Kangerlussuaq in appr. 30 minutes. The temperature is 3 degrees Celcius, he says. What a good thing that my jacket, cap and gloves are placed on top in the rucksack.
We are scheduled to fly on from Kangerlussuaq to Ilulissat at 3,30, but it turns out quite differently. "God or Greenland Flight willing", they say here in Greenland. On arrival at Kangerlussuaq, we are told that Greenland Flight is "not willing", we cannot get on for Ilulissat before 6 . "We shall have to see what the Lord can do", says Strange Filskov of the Tourist Office in Ilulissat when I call to announce our delay. We are supposed to sail from Ilulissat for Godhavn at 5, and we have arranged for the rest of the group (the twenty who are already in Ilulissat) to meet us at the boat at 4.45.
I call Preben Ullitz, the Tourist Office manager in Qeqertarssuaq (Godhavn) to inform him of our delay. "Just take it easy", he says. Maybe we are going to be quartered in Ilulissat or maybe not! No on can tell me anything.
At 2.15, I get a call, announced over the information desk at the airport. It is Marianne Kirkegaard, one of our students in Ilulissat telling me that they have now managed to twist the arm of the skipper of M/S Tugdlik which is taking us to Qeqertarssuaq, so that we are leaving tonight at 7 - or whenever we arrive from Kangerlussuaq.
So we wait.
---