| Homepage >| Logbook Index >| previous page >| next page|

dansk version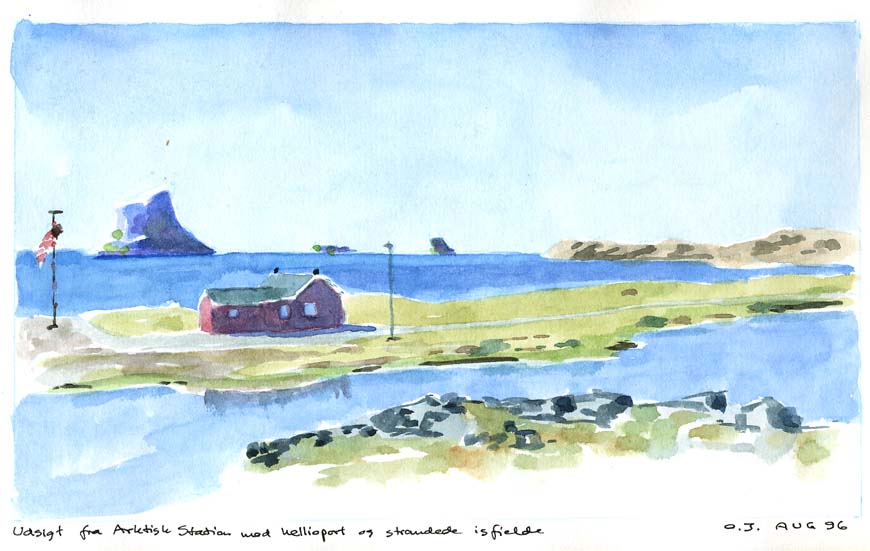 View from the Arctic Station towards the heliport and beaching icebergs © Watercolour by Ole Jacobi 1996

---
Wednesday 7 August 1996
I've just opened my eyes to a fantastic sight.The view from my bed here at the Arctic Station is of the water. I can see about ten enormous icebergs and any number of smaller ones out there in the fiord. The sun is shining, and the sky is blue. I open the window, all is quiet. I'm so unfamiliar with silence that, without thinking, I listen intently for a long time, and wonder that something so simple can be so fascinating. I feel the cold, but hardly notice it in the contemplation of beauty.
I've seen to it, before we left Denmark, that the KNI store has brought large boxes of food for each of our three quarters. Now we break open the food box and start cooking. At 11, breakfast is served with tea, coffee, juice, milk, yoghurt, cornflakes, soft-boiled eggs, butter, cheese and bread. Somebody complains that there are no oats (!). Somebody evidently cannot live without oat porridge. I promise to buy the oats, and Jacobi promises to cook the porridge.
Jacobi is elated. He is high on the sensation of being at home in Greenland where he was born at Arveprinsens Eiland. He's been up since 8, and is now speaking Greenlandic with Barat Thygesen, the cleaning lady here at the Arctic Station. I don't understand a word of their conversation, and they try to teach me two important words: Ajunngilaq (it's good) and Ajorpoq (it's bad).
We have arranged with everybody to meet here at the Arctic Station at 12. The siren of the town goes exactly at 12, all the dogs howling along with it. A lament over the heavy burdens of Life in general and their own miseries in particular. It is in truth a dog's life!
Leif Skytte's wife, Johanne, welcomes us and tells us about Disko, and in particular Qeqertarssuaq. Then she takes us down to the school to see the rooms they have reserved for us. It is a nice big school, and they have given us two adjoining class rooms that we may use for supper and evening classes.
Then Arne and I visit Poul-Erik, the manager of the KNI shop to arrange with him how we make our purchases and settle our account.
We all meet again by the Tourist Office manager's, Preben Ullitz. Here I'm told that we cannot after all eat at the school, because Karoline and Nikolaj Broberg, the cook and her husband find the school cooking facilities not good enough to cater for so many. We must eat at the youth hostel Siorarsuit, and in two relays! The students are very nice about it, taking it all in their stride. I inform them at once of the changes in plan, and of the projected tour with local coffee-breaks which has been planned for each of the 4 groups of students we have formed. Everything is all right, but there is still one big problem outstanding: the missing oats! Overheard by all, I promise once again to buy the oats tomorrow.
I go back to the Arctic Station with Jacobi, and on the way we pass the town cemetery. I want to see it, and Jacobi tells me that burial is a big problem up here where the rocks are only covered by a thin layer of soil. It's a beautiful cemetery. All the graves are marked by white wooden crosses with names and dates almost erased by wind and weather. There are only a few polished grave stones with gold lettering, and they look quite out of place. Plastic flowers "grow" on all the graves. You may say that the dead enjoy a good view, at their backs the rugged Lyngmark rock, in front the sea with all its chalk-white icebergs. I should like to be buried here when my time comes...
The sun has been shining all day, and the skin of my face is beginning to feel several sizes too small, but the air is so clean and fresh.
The mosquitoes are very aggressive today, and they are hungry. There is always a serpent in Paradise, and in this one it is the mosquitoes.
We have supper at 6. Karoline and Nikolaj serve goulash made with Tikaagulik (lesser rorqual).
We have mashed potatoes and beet root with it, it's certainly an experience.
Then we all meet at the school, and after some panic to remove the dividing wall between the two rooms, we sit down to an information meeting. Then home for coffee.
Around 11, Arne suddenly remembers that he bought some shrimps today, and invites us to a late snack: fresh shrimps on toast. Ah.
Then we go to bed. My room has light-proof curtains to keep out the night light, but they cannot keep out the howling of the dogs, besides, the view is far too beautiful to draw them.
---
Thursday 8 August 1996
Team A sails for Skansen at 9 with Arne and Keld Dueholm.
Team B is going visiting with Jacobi and Karen Vinther.
I'm going shopping for food for all three quarters. I must remember to buy oats!
Sven Karup-Møller takes the rest of us walking at 2, eastwards to a locality with columnar basalt. We walk among arctic cotton-grass, large-flowered rose bay, mountain crowberry, creeping knotgrass, dwarf birch and arctic harebell. The life of the flowers is hectic, so much to be done in so short a time.
Suddenly there is a great crash coming from the water. It's an iceberg shedding a large piece of itself. We are only in time to see the water splashing and then we hear the noise. The sun is shining, it is another day of fantastic weather. It blows a bit more than yesterday.
We walk to Kuanneq, an area about 3 kms from Røde Elv. Here can be found some very special basalt formations. When lava is cooled down very quickly, it sometimes contracts and forms hexagonal columns. Kuanneq is such an area with columnar basalt in a great variety of shapes and patterns. Half-way to Kuanneq, Marianne tells us to look back along the steep rocky coast. Two "elephants" are revealed, drinking water!
Marianne has promised to show me where to find angelica - mountain angelica. We walk down the steep rocks while the others are still looking at the columnar basalt that Sven has found, but quite a few go down with us. We find the angelica quickly, it's very damp with many springs here. We taste the spring water, how lovely and cold it is!
Behind the next rock, out of the wind, we find an elderly Greenlandic couple gnawing some big angelica stalks. They explain that we must go a bit further to find the big angelica, and so it is. I pick enough to fill my rucksack, and tell the astonished young people that I need it for making schnapps - angelica schnapps which I've heard should be very good.
The walk has made us tired. Sven has kept up a tremendous pace, but the students encourage me to go on, just a bit further to see a marvellous sight. Bjørn and I have ended up in a swamp, and we're proud that we're wearing our Goretex boots. They are just totally water-proof, but not so my jeans! And I fall down with both knees planted deep in water and angelica and dwarf willow. The water is very cold, but never mind, because right over there, on the other side, 8-10 students are already sitting on top of a basalt column. They are waving and making signs that we MUST come up there. I manage, luckily, for the sight which awaits me is so magnificent and beautiful: columns of basalt everywhere, and deep down the sea with those white and turquoise, almost "enameled" icebergs.
We sit for a long time, enjoying it. In this place, Nature is so great and powerful. It is a life we have read about in books. Here we are in the midst of it.
Bjørn offers to take my rucksack on the climb down, and I'm very glad of it. Lone carries a giant angelica stalk for me, there's no room in my bag. The return trip is easier, and we are home again around 5.
I swap a bottle of red wine with Lone in exchange for a soda bottle of vodka. Then I cut the angelica in small pieces and put them with the vodka. Now it has to soak for a fortnight, and my angelica schnapps will be ready. I promise Lone a taste when we get home.
At 6 we go down to eat. Today's menu is seal. I've paid 749 kroner for 17 kgs of seal meat which is served with hot potato salad and mustard. It tastes very good, a bit like liver according to some. The meat is very dark, almost black, but we eat it. Arne and Kjeld only returns from Skansen at 8, so no seal for them.
At the school, Jacobi is in charge of the evening's lecture, and we hear about height measuring, among other things. Back at the Arctic Station, Berit and Co. have baked a wonderful cake and made tea and coffee.
Arne and I have a small meeting about economy.
I go to bed tired and dream about one of Povl Dissing's songs.
---