| Homepage >| Logbook Index >| previous page >| next page|

dansk version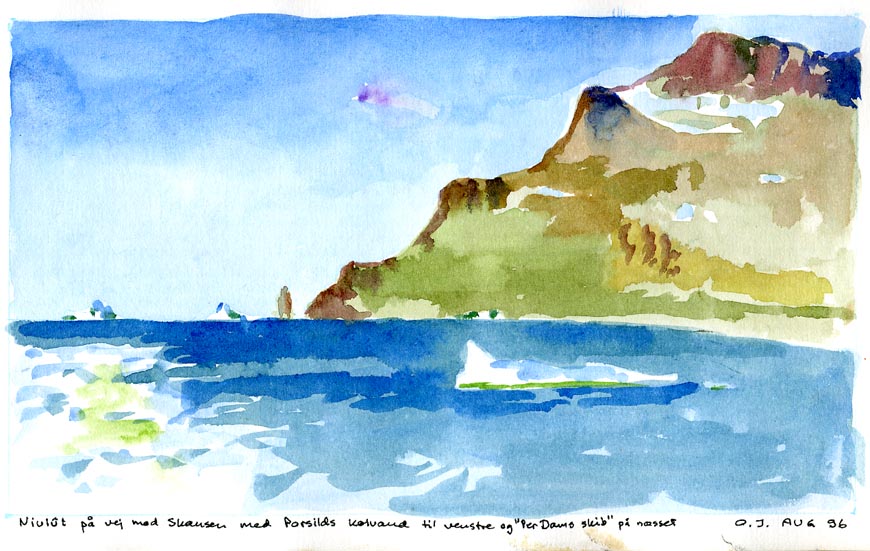 Niulut on the way to Skansen with "Porsild"s wake on the left © Water-colour by Ole Jacobi 1996
---
Saturday 17 August 1996
I've volunteered to make breakfast today. Luckily I made bread last night, so there's fresh bread with the morning coffee. Arne helps me to lay the table, and Jacobi cooks porridge. I make 5 omelets with ham, it's nice to have a change from the boiled eggs.
Team D is sailing to Skansen today, and I'm going too. Departure is at 9. Martin would like to come, he's getting bored with sitting at home with his rupture, so he hobbles along with us all the way to the harbour. It is 9 degrees Celcius this morning, and the weather is looking up.
We're not far out of the harbour when that happens which we have been waiting for so long: a whale is sighted. Jørgen Broberg pronounces it to be a finback. He can see it from the enormous size of it and the back fin. It comes up nice and easy for air, makes a blast - a slim column of about 6 metres tilting backwards - and goes under again. We follow it, and see it several times. We think there might be two of them.We're so thrilled to have seen them only a hundred metres in front of us, it's what we have been looking forward to. A finback measures 19-27 metres and weighs between 50 and 100 tons. It is the next-largest whale in Greenland.
A little further on, there are seals. Martin, Mikkel and Bjørn are allowed to shoot at them. I believe they are quite turned on by the situation, but none of them hit their target. Suddenly another 5 seals turn up, they take aim, and shoot, but all 5 seem to rise on great wings and fly away. How can engineering students hope to understand seals?
It is now 1 o'clock. I've found the best place on the ship behind the wheel house, out of the wind. I'm sitting on a warm blanket, enjoying the sun while I eat my lunch. All four bunks and the two sofas in the cabin are occupied by tired students. They had a party last night until the small hours. It's worst on themselves, the trip to Skansen is so beautiful. Elisasbeth has held the wheel most of the way. It's Johannes' day off, so only Jørgen and Elisabeth have come with us.
Mikkel is writing postcards to his mother and his girl-friend. He's not really in the mood, so I have to give him some tips on what to say to his mother.
---