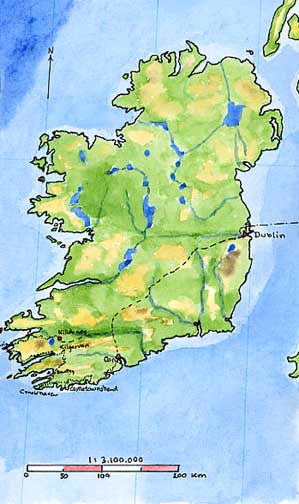 Bicycle trip in the South West of Ireland 1996
Dublin to Killarney.
Imagine your average modern airport with its corresponding network of access- and outlet-roads to the surrounding motorways, and you can imagine the problems facing the bicyclist wanting to enter or leave the system. Dublin Airport is no exception to the rule, so several wrong turns were made before we struck one of the main roads into the city. It was not a nice trip, noisy, polluted and probably dangerous, but finally we made it to the main station where we intended to take a train directly to Killarney. The assumption was that the wind in Ireland is mainly from the west, so that starting from a westerly point, moving along the south-west coast in an easterly direction, we would have an easy trip riding before the wind. Taking the bicycles on the train proved no problem, there was a special baggage van where they were easily accommodated, only requiring a special bicycle ticket.
The train left Dublin at 17,40 and we arrived in Killarney around 9 o'clock in the evening. Trekking into town with all the other tourists - bikers, backpackers etc - we quickly found a small family hotel where we had a nice room and a plentiful breakfast at 55 pounds for both of us. (This is a bit higher than your usual Bed and Breakfast rate which varies from 12 to 16 pounds per person). Luckily it didn't take us long, as the rain started pouring down almost as soon as we left the train. Though Killarney is one of the tourist centres of the West and the starting point of the Ring of Kerry, a very popular scenic route, there was no lack of accommodation, nor did we ever have any real trouble finding vacancies at B&B places.