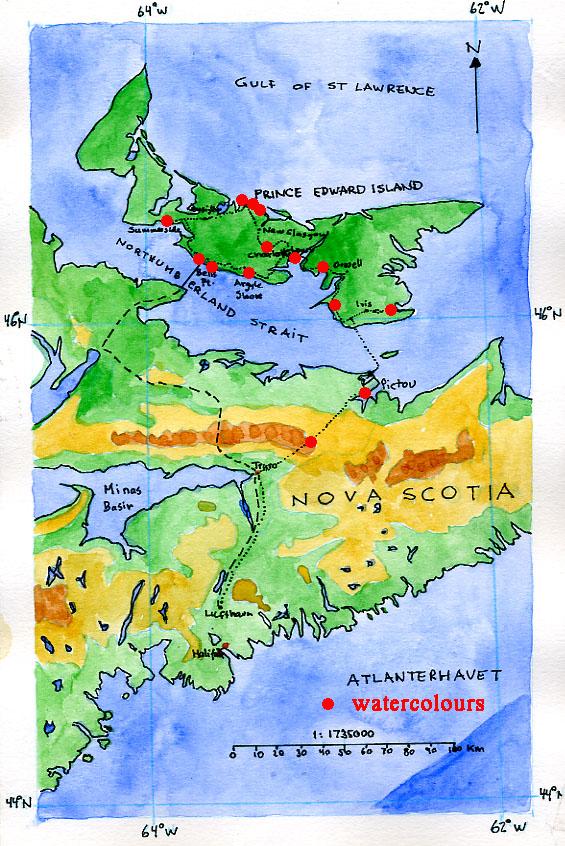 For the last many summers, we have visited the islands of the Eastern Atlantic seabord: Lofoten in Norway, the Outer Hebrides, Orkney and Shetland in Scotland, Ireland, Wales which is not an island, but might as well be one, and Gotland in Sweden which is an island, but in the Baltic, not in the Atlantic. The time had now come, we thought, to cross the Atlantic and see what it looks like on the other side. As islands seem to be our preferred locations, we chose Prince Edward Island (PEI in the local vocabulary) in Canada which has the advantage of being fairly small and not too hilly.
The next consideration was how to get there. The closest airport turned out to be Halifax in Nova Scotia, so using the Internet we booked the flight and a room at the Halifax Airport Hotel for

Tuesday 8 July 2003
Departure from Copenhagen Airport in the morning with a change at Heathrow in London brings us to Halifax at 3 pm local time. The airport is quite a distance from Halifax in the other direction from where we want to go, so we decide to skip Halifax and get on towards PEI to the north. The hotel is like any other airport hotel you can imagine, but next to it, there's a very good tourist information office where we get maps and book our next accomodation at Truro, still on Nova Scotia which is quite a large peninsula.

Wednesday 9 July 2003
With a jetlag of 5 hours, we're up early, ready to go north. For the first 5 kms, there's only one possible road, a motorway which does not sound very promising, but the receptionist at the hotel tells us that he bikes to work every morning that way, so we take his advice and start out on the motorway at 7 am. It turns out there's a wide asphalted shoulder with plenty of room for bikes, and after 5 kms, we turn off at Enfield and follow the old road which runs parallel to the motorway and to the railway.