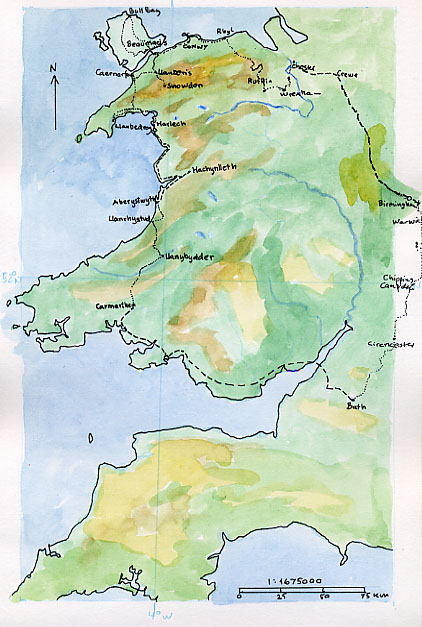 Copenhagen to Chester
Friday 11 July 1997

Our trip started with the flight from Copenhagen to Birmingham. At the Airport, the queues were enormous, people milling about with their luggage and children. Wonder of wonders, the BA desk was empty and we were through check-in in 10 minutes, bicycles and all. Some of the BA destinations were on strike, but luckily not Birmingham. The plane, too, was only half full.

Thanks to the Internet, we had our route from Birmingham International Railway Station to Chester all planned. The bikes were no problem, even on the small local train from Crewe to Chester which was pretty full. So was Chester, it turned out. This weekend was dedicated to the Chester Races (oldest race-course in England), and at the Tourist Office at the Railway Station, they could offer no accomodation in Chester itself. The nearest was a farmhouse about 6 miles from Chester which turned out to be more like 10 miles before we got there. We had a quick look-around and a meal in Chester, which seemed a very nice place with many lovely old Tudor houses, before heading for our B&B. This turned out to be a farmhouse converted or perhaps extended to 6 holiday flats and some rooms in the farm itself. The room was very nice, also breakfast and also the price which was above average (£24 p.p.). We had an interesting talk about Welsh independence with our host - a subject that interests many Welshmen.