| Homepage >| previous page>| next page|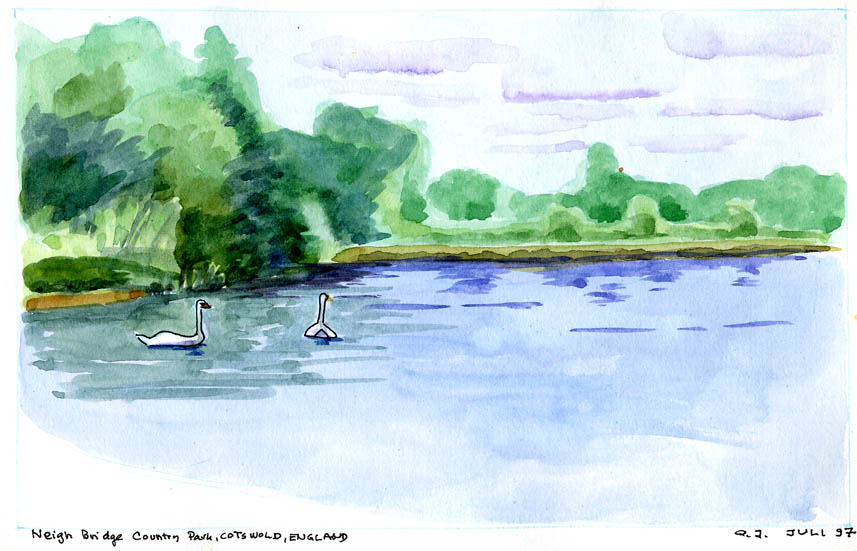 Neigh Bridge, Country Park, Cotswolds, England © Watercolour by Ole Jacobi, July 1997


Bath to Castle Combe
Sunday 27 July 1997

The morning was spent visiting first the Roman Baths which were very interesting, and later the Assembly Rooms (nice but dull) and the Custome Museum which was interesting in its way. After lunch we found our way out of Bath without too much trouble, but there was a murderous hill to conquer. Arrived up on a plateau of around 120 metres in height, it was very pleasant going along the Roman Fosse Way. We had cream tea (tea with scones and jam and clotted cream) at a small place on the way - very good, but their B&B, which they also did, cost £115 for a double room with bath! We went on, and at a pub on a corner we got directions to another B&B which charged £44 for a room for two. Before going down to the pub for a meal, we realized that we didn't have enough cash for the room (only £41, £3 missing!). We tried at the pub to get change on our creditcard, but no go. So we had to go back to Mrs Shanks and confess that we were short on cash, which she took very well. Next morning at breakfast, there was a discreet envelope with a bill for £40 for the room which was generous of her, though not an unreasonable price. It was strange to realize how uncomfortable we both felt about this.

---