| Homepage >| previous page>| next page|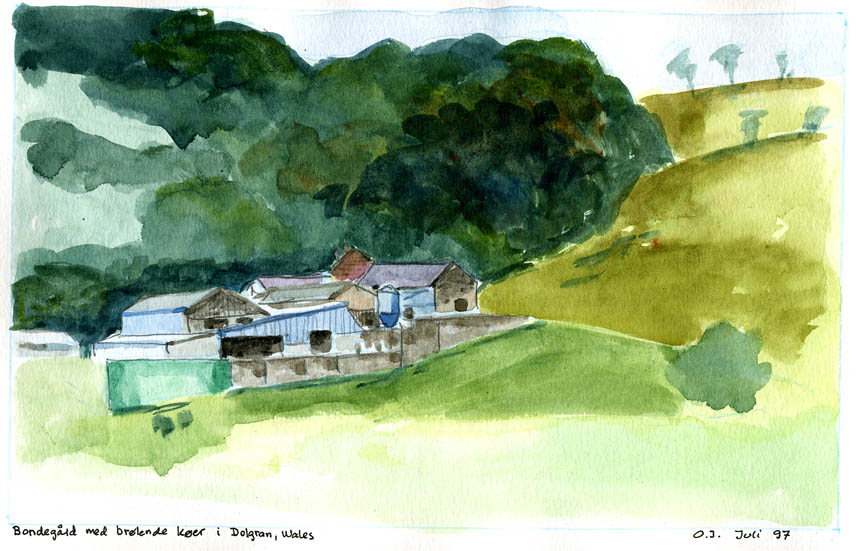 Farm with bellowing cows, Dolgran, Wales © Watercolour by Ole Jacobi, July 1997


---
Llanbyther to Carmarthen
Friday 25 July 1997

The trip to Carmarthen, this day's destination, went very well, lovely small roads, very nice weather, not too hot or too cold. We reached Carmarthen, a quite big market town, around 4, and nearly got swamped in traffic. By chance, we passed the station and went in and bought tickets and reservations for ourselves and the bikes for next morning's train for Bath. Then into the town centre to look for the Tourist Information which was located on Lammas Street. They booked a room for us at the Drovers' Arms, a small hotel nearby (£20,50 p.p.). Dinner at our hotel and a night with Eddie Murphy on TV.

Carmarthen to Bath
Saturday 26 July 1997

Woke up to rain again, quite early because we had to catch the 9,35 train from the station. This train had a very good space for bicycles, but the first part of the trip from Carmarthen to Swansea drowned in rain with very poor visibility. At Swansea, we changed trains for Bath with three quarters of an hour to wait. The next train was much smaller and the space for bicycles very cramped. We arrived in Bath while it was still raining, but weather looking up. The Tourist Booking office at the station was crammed full of people, all wanting accomodation. There was a Morgan car meeting in town over the week-end (those lovely, open, low-slung cars from the 1930s, I think). Fortunately we got in with Mrs Porter in Shakespeare Avenue which turned out to be up a very long, steep hill (one of the seven hills of Bath), but with a wonderful view of the city from up there. The room was a nice large one (£13,50 p.p.), but we had to share the bathroom with four other people which was a bit crowded.
When the rain let up a bit we walked down to the centre of Bath to look at the town. And what a lovely town! If you could abstract yourself from the hordes of tourists everywhere, you could imagine yourself back in Jane Austen's time, walking round the Circus or along the Royal Crescent, or up and down all the lovely streets crammed with 18. Century houses. We were just too late for the Roman Baths and the Assembly Rooms which we are going to see tomorrow. Dinner at an Italian restaurant, then more walking around, over the Pulteney Bridge, along the Kennet and Avon Canal until we dragged ourselves up the stairs again to Shakespeare Avenue and bed.

---