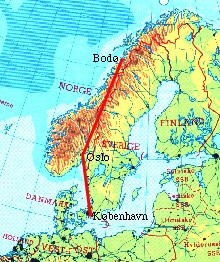 Holiday in Vesterålen and Lofoten, Norway on bicycle
In 1993 Susanne and Ole Jacobi went on a bicycle tour in Lofoten and Vesterålen in Northern Norway. This succession of WWW pages consists of watercolours made on the journey with some comments regarding bicycling on the rocky islands.

How do you go to Lofoten from Copenhagen with bicycles ? To start with, you bike to the airport in Kastrup and check in the bicycles as luggage for the flight to Oslo in Norway. If bicycle plus bags weigh in at 20 kg, there is no extra charge, and at the same time, you travel lightly which is always an advantage.

The flight goes to Fornebu south of Oslo. Here you change to a plane for Bodø. If the weather is clear, you may see the beautiful descent to Bodø between high mountains.

In Bodø, there is time for a look around the town before continuing the journey by Hurtigruten.