| Homepage >| Gotland> | previous page |
---
A Trip to the Isle of Gotland, Sweden July 2001

dansk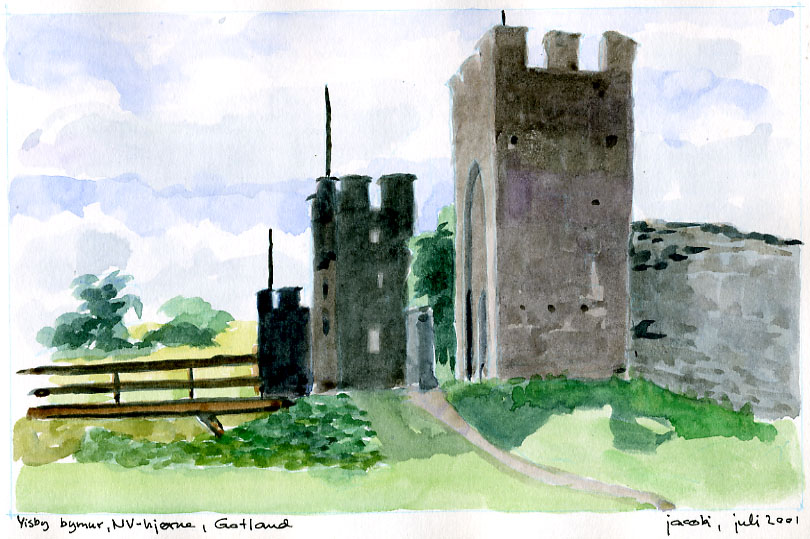 Visby townwall, North-West corner, Gotland © Ole Jacobi July 2001
---
Tuesday 24 July 2001
The plane for Stockholm leaves at 2, so thereís plenty of time for taking a last look at Visby. Today we approach it from the south which is clearly the most affluent part of the town with lovely wooden villas in beautiful gardens. We take a round of the Arts & Crafts shops for possible souvenirs to bring home, and clearly wool and lambskin garments are the most attractive offers. But, alas, much too heavy and warm and also too expensive for our purse. The flight home is much more relaxed than the flight out ? our luggage is checked in all the way to Copenhagen, and everything goes according to plan.

Itís worth noting that the reason we flew instead of travelling by train to Gotland was the absolute impossibility of transporting the bikes by train or bus across Sweden and on to the ferry to Gotland. Not all Swedish trains carry bikes, and the carrier service which could have transported the bikes for us does not visit Oscarshamn, the ferry port for Gotland. On the other hand, there were many bicycles for hire in Visby, some of them with little waggons attached, of which we saw many on the roads. If you can dispense with your own bike, that is certainly a solution to the transport problem.
Another thing to note is that if you travel during the holiday season in July and August, itís probably a good idea to book in advance. Much accomodation can be found on the Internet, but thereís no central tourist organization which carries all available accomodation, but rather competing agencies, some private, some official which each have their own address list.

No more pictures
Back to Map


---

Home page of: Susanne & Ole Jacobi

---

text and watercolour by Susanne and Ole Jacobi