| Homepage >| Gotland> | previous page> | next page|
---
A Trip to the Isle of Gotland, Sweden July 2001

dansk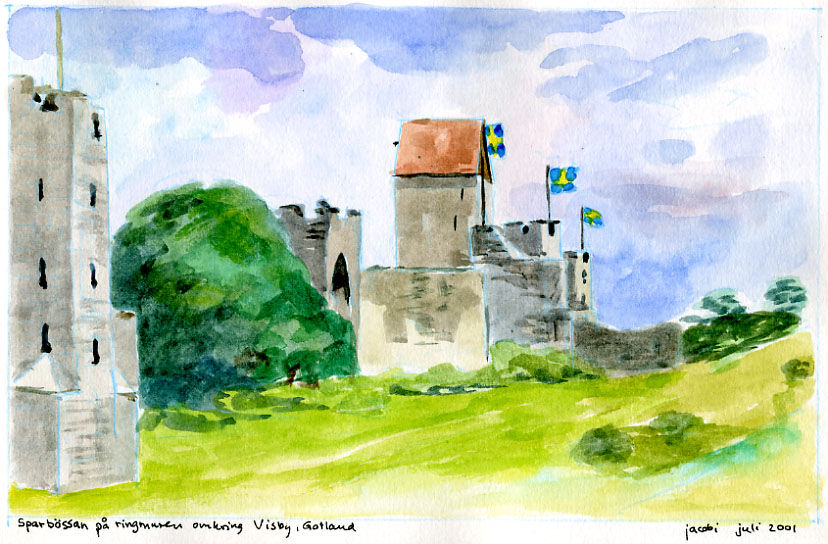 Sparbössan on the townwall of Visby, Gotland © Ole Jacobi July 2001
---
Thursdag 12 July 2001
Today we are woken by a heavy shower which does not bode well, but the day turns out sunny after all with a strong wind from SW. We have decided that before leaving Visby tomorrow, we had better arrange accomodation beforehand so as not to end up with no lodgings at the end of the day. We go first to the official Tourist Information Office where, it turns out, they don't do bookings. Then to the private Gotland Tourist Service, where they are a bit more helpful, at a price of course. Our plan for tomorrow is to go northeast with the wind, and Fårösund is the best they can offer in that direction. It is quite a long way, 75 kms, but with the wind at our back, we're optimistic and book a hotel for two nights.
After booking, we go to the museum where we notice some marvellous decorated standing stones from 400-600 AD with beautiful geometrical patterns. Also a lot of medieval artefacts connected with the town history, but the stones are the best on offer.
In the afternoon we dawdle around the town, looking at old houses covered in roses, and following the ringwall all the way round.

Back to Map


---

Home page of: Susanne & Ole Jacobi

---

text and watercolour by Susanne and Ole Jacobi