| Homepage >| Gotland> | previous page> | next page|
---
A Trip to the Isle of Gotland, Sweden July 2001

dansk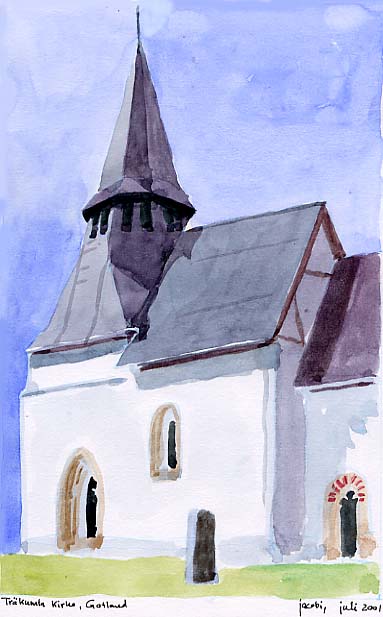 Träkumla church, Gotland © Ole Jacobi July 2001
---
Monday 23 July 2001
Breakfast, however, served in the old stable building, is very good!
Today is our last whole day in Gotland, so there's work to do! After the splendid breakfast we go off to Roma in the middle of the island, appr. 25 kms away. We have read about the ruins of an old Cistercian Monastery and a cultural centre at an old mansion house. It is not at Roma itself, but a few kms down a side road (the name Roma, by the way, does not refer to Rome in Italy, but stems from the word room, meaning a space to meet). The ruins are quite impressive, and apparently a play has been mounted there this summer: "King Lear" with a Swedish cast. The mansion house is dedicated to arts and crafts with an attendant café serving nice wholesome food in idyllic surroundings. We fall in love with some mobiles made of feathers and stone mounted on a cast-iron frame, but it's impossible to transport on the bikes, so we have to leave them.
Today we've been into four churches, it's turning into quite a pilgrimage. Home in time to enjoy a quiet evening in the garden. Swedish gardens, by the way, are made up of incredibly fine lawns (I think they must mow them every second day), planted with a number of solitary trees and a few flower beds dotted around and masses of roses climbing up the houses.

Back to Map


---

Home page of: Susanne & Ole Jacobi

---

text and watercolour by Susanne and Ole Jacobi