| Homepage >| Gotland> | previous page> | next page|
---
A Trip to the Isle of Gotland, Sweden July 2001

dansk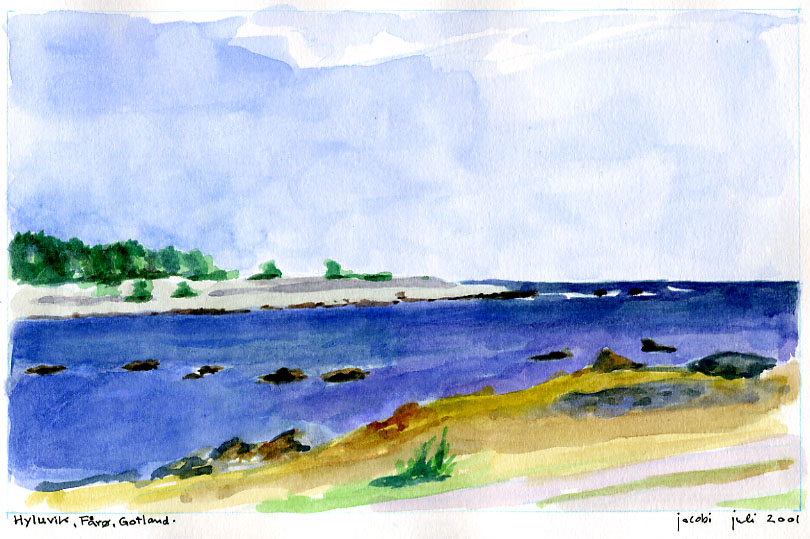 Hyluvik, Fårø, Gotland © Ole Jacobi July 2001
---
Saturday 14 July 2001
The next part of Fårö we look at is the stretch from Lautervik to Digerhuvud where there are many stone formations, in Swedish "rauker", a geological oddity where the eroding sea has left these standing stones, up to a height of appr. 5 mts. This coast has a large area between the water where the raukers are standing and the woods inland of bare, stony ground with a few hardy flowers growing out of the stones. A weird landscape, beautiful in the sunlight. Our next stop on the way back to our hotel in Fårösund is an exhibition by a Swedish painter with some very beautiful watercolours of the landscape we have just passed through. Most of them are already sold, though the exhibition has just opened today, so the temptation to buy is out of the way.
At the next church, Fårö church, there's coffee and waffles at the parish hall, perhaps the Swedish churches are set on a course of attracting visitors through the simple means of serving their hunger and thirst. Anyway, the waffles are very good, and give us energy for the last stretch before the ferry which we reach in good time. And if you miss it, there's always another one in half an hour throughout the day.
We knew beforehand that Fårö is the home of the famous Swedish filmmaker, Ingmar Bergmann, and by a funny coincidence, we learned later that 14 July is his birthday when the whole family turns up at Fårö to celebrate. Of course we saw no sign of them, but the landscapes we passed through have certainly inspired some of his films.
Back to Map


---

Home page of: Susanne & Ole Jacobi

---

text and watercolour by Susanne and Ole Jacobi