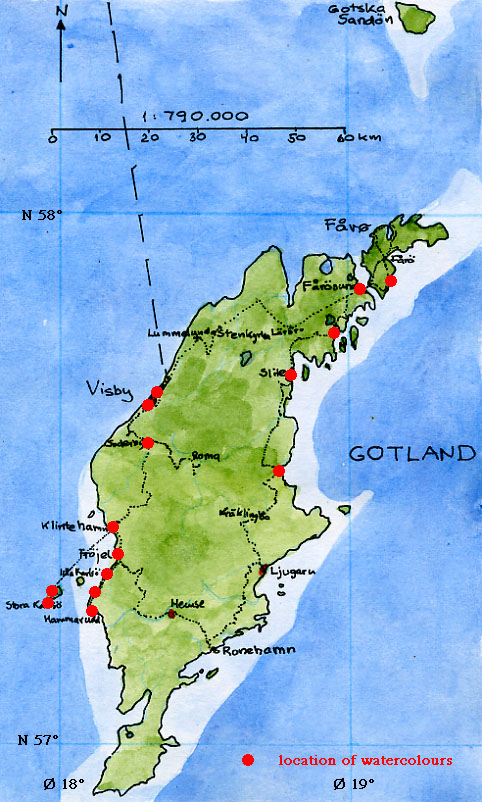 Wednesday 11 July 2001
Departure Copenhagen Airport at 14,25 for Arlanda, Stockholm with connection to Visby, Gotland.
Unfortunately, the plane to Arlanda is late, the bikes are not on it, and we have to run for something ressembling a mile to find the Visby plane which we reach with 5 minutes to spare. The problem, apart from the plane being late, is that our luggage has to be brought by ourselves through customs before we can put it on the Visby flight. In Visby we complain about the missing bikes to the authorities, a nice man in the otherwise deserted small airport, who promise to send the bikes on to our address, as soon as they arrive. We then take a taxi to the B&B, or rather just B, that we have booked a fortnight ago from Copenhagen. It turns out to be in an apartment house in a not very exciting quarter of town, outside the ancient city walls which we could see on the taxi ride from the airport. But the room is alright, though not en suite. After a wash and a whisky, we set out for the old Hanse town within the walls to get our first meal on Gotland.
Nice meal, nice waitress who compliment us on our attempts to speak Swedish. After dinner we walk around the town for a bit, taking in the special atmosphere of old houses, some of which, the very oldest, are wooden, built of thick tarred planks, steep cobbled streets with no shortage of eating places, and from time to time the ruins of some very old church. We've seen at least five such, while there's only one, also very old, functioning cathedral, St. Maria's, and a few newer ones. The people of Visby must have been more devoted in the past, or else the town finances have not been good enough to keep up these five churches in a fairly small place.
Surrounding it all is the ringwall dating back to the 13th C. when it was built to defend the German traders in the town from the surrounding Gotland peasants whose trading rights were threatened by the town. Because of this fantastic wall which still stands almost as it was, Visby has become one of the cities that the UN has marked for preservation. It is very impressive, but the town as such is now more of a tourist attraction than the active trading place that it once was.
When we arrive back at our lodgings, the bikes have been brought from the Airport, so now we're mobile again.