| Homepage >| Gotland> | previous page> | next page|
---
A Trip to the Isle of Gotland, Sweden July 2001

dansk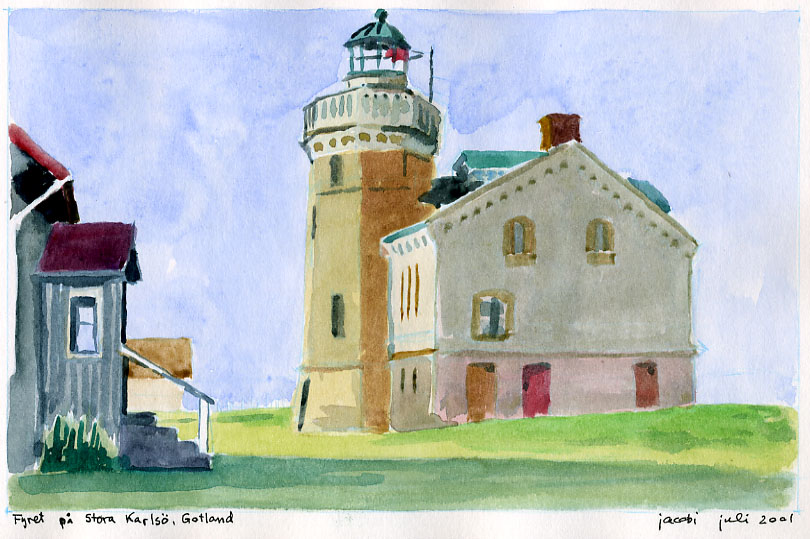 The lighthouse on Stora Karlsö, Gotland © Ole Jacobi July 2001
---
Saturday 21 July 2001
The restaurant has quite an expensive menu with Gotland specialities (lamb, charolais, fish etc.), and wine and spirits are served. After ascending to the lighthouse plateau again, we spend a marvellous evening out of doors in the sun, watching it set over the sea and listening to the cries of the seabirds. We are told by some of the other guests in the house that we've been extraordinarily lucky to find accomodation here at such short notice ? usually people book many months in advance. We would certainly have liked to spend longer here, but one night is all we're going to have.
Sunday 22 July
When we wake up in the morning, the fog is so heavy that we can hardly see the lighthouse from our window, much less the sea. But by the time we've packed our bags and moved down to sea level, the fog has lifted, promising another beautiful day. As we sail away from the island, we look back with regret, and promise ourselves to come back another time for a longer stay.
Arrived at Klintehamn again, we start out for our next destination, Suderbys Herrgård, where we're staying for the last two nights on Gotland. The weather stays warm with the wind at our backs, so with the usual visits to all the churches we pass on our way, we make good time on the small roads to Suderby which is within 10 kms of Visby. We had thought that the name of the place, "Suderbys Herrgård", which means the mansion house of Suderby and the not inconsiderable price of the accomodation would ensure a nice room of some size in an old house, but alas, all the rooms are in a modern annexe, and so small that it's difficult to turn around without bumping your head against the TV set on the wall. Also, and contrary to expectations, there is no possibility of an evening meal, so we have to set out again to a nearby steak house.

Back to Map


---

Home page of: Susanne & Ole Jacobi

---

text and watercolour by Susanne and Ole Jacobi